The almond roasting machine has a unique drum structure, which can achieve rapid heating and uniform roasting, and is also suitable for peanuts, cashew nuts, walnuts, etc. Hot air as the drying medium, rotary drum keeps running during the roasting process, so that the almonds can be turned over continuously and be heated uniformly and have perfect roasting effect.This nuts roaster is simple to install and operate, and convenient to clean so that the food is sanitary and popular with the consumers.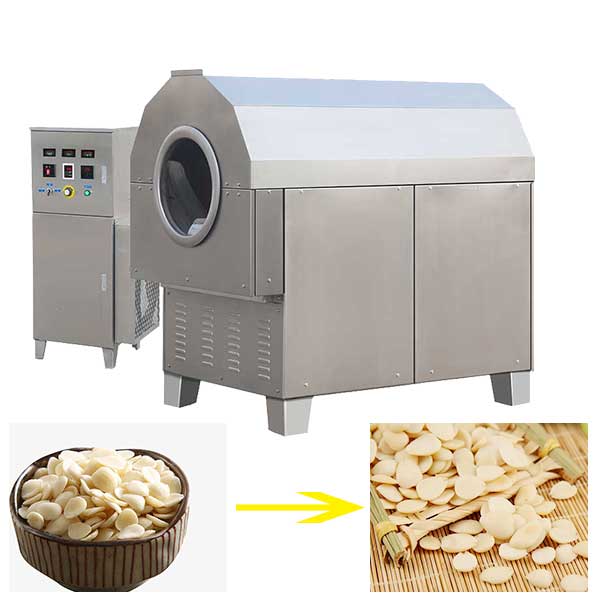 Advantages of Electromagnetic Almond Roasting Machine:
1.Energy-saving:The electromagnetic nut roaster machine directly transmits the generated heat source to the pot body without using any heat conduction method. Therefore, it is more power-saving, time-saving, and reduces thermal radiation.
2.Long service life:The electromagnetic Almond roaster machine adopts a unique design to separate the machinery and electrical appliances. This makes the machine without any wear when rotating, thus greatly reducing the failure rate of the machine.
3.With low energy consumption and high heat energy utilization efficiency, this machine uses a composite pot body to protect heat from spreading to the outside of the machine, the heat energy utilization efficiency can reach above 95%, compared with the traditional electric heating, baking, and frying equipment can save more than 45% power.
4.Easy to operate: This roaster machine for nuts uses an intelligent control panel to operate the machine, which can easily control the temperature and other parameter settings. Therefore, it can satisfy the baking of raw materials with different temperature requirements. Moreover, the rotation speed of the toaster can be adjusted.
5.Intelligent temperature control: The machine heats up quickly, and the outside of the machine is equipped with insulation cotton to ensure that the internal temperature will not quickly lose.
6.With fault self-diagnosis function, convenient for operators to check in time.
7.The highest baking temperature can reach 400℃, so which can meet the roasting temperature of most materials.