This commercial almond butter machine belongs to the fine processing machinery. The principle is through the different geometric shapes of the rotor and the stator rotating at high speed relative motion, make the processed under the action of gravity, centrifugal force and other composite materials, the machines through variable annular gap, by powerful shear force, friction force and the high frequency vibration. The aim of commercial almond butter machine is to disperse, crush, emulsify, homogenize and mix the material. Grinding gears are designed according to different material properties and processing requirements. This machine has the characteristics of simple operation, balanced operation,low noise, easy maintenance, corrosion resistance, wide use and wide variety.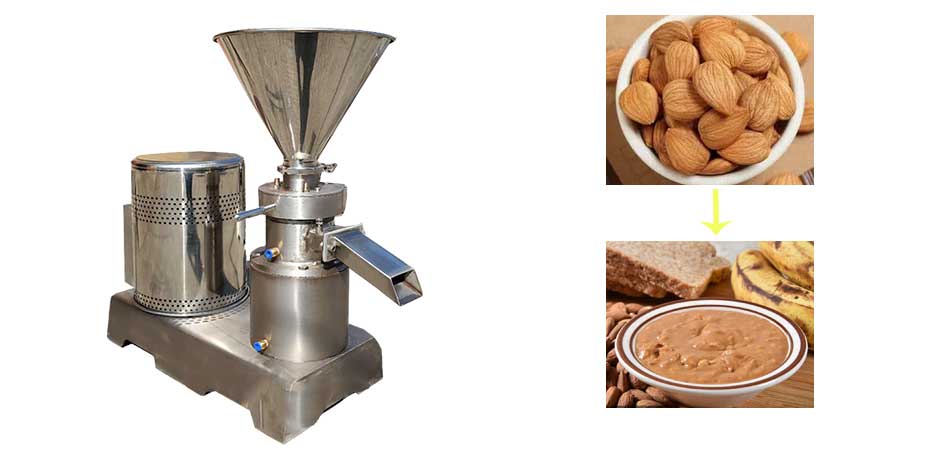 Almond Butter Grinding Machine | Almond Butter Making Machine Advantages:
1. In addition to the machine motor and some parts, other parts contacting material are all made of high strength stainless steel.
2. Particularly, the key the dynamic and static mill through strengthen treatment have good resistance to corrosion and abrasion resistance, so it can make the processed material pollution-free and healthy.
3. The design of the machine has the usual feeding hopper, and pipe outlet which can make the material to be recycled in the machine, can satisfy the requirements of users.
4. Almond butter grinder machine has a compact design, good looks, good sealing, stable performance, easy operation, simple decoration, high production efficiency structural features, it is the ideal processing equipment for fine materials processing equipment.