Cashew nut kernel separator Product Features:
The cashew kernel separator is used to separate the cashew kernel and cashew shell after shelling.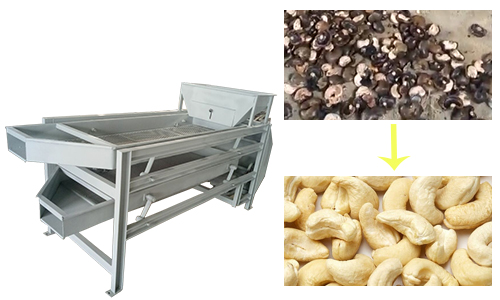 The two-layer vibrating screen separator is used for the shell kernel separation of cashews and other nuts after shelling.Increasing the number of screen layers can also be used to classify peanut kernels.Vibrating screen separator according to the use of different, can set 2-5 layers of different specifications of vibrating screen mesh, in order to achieve different screening purposes.Customers can put forward specific requirements, we provide suitable models.
Single feeding, shell kernel automatic separation, easy operation;High production capacity, a single machine can meet the whole cashew production line shell kernel separation needs.· Small floor space, convenient for production line
composition.
The cashew shell kernel separator can be composed of cashew shelled production line of raw cashew grading machine,cashew nut shelling machine,cashew dryer machine,cashew nut peeling machine