Introduction of Cashew Nut Shelling Machine:
This machine is an advanced and professional automatic cashew shelling equipment, with high efficiency, low labor intensity, high shelling rate and high whole kernel rate.
Raw cashew nuts should be divided into 3-5 grades according to their width using a grader, then cooked and cracked.
Structure of Cashew Nut Cracker Machine:
It mainly consists of frame, roller, roller bearing, motor, hopper, slide device and shelling device.As a cashew shelling machine manufacturer, we also can customize it for you.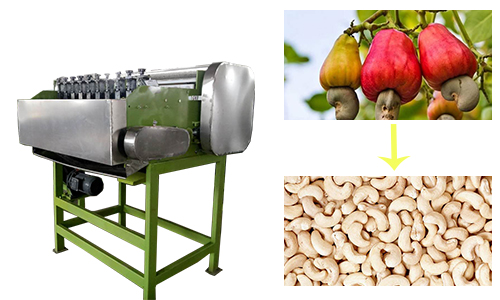 Working Principle of Automatic Cashew Shelling Machine:
This machine for cracking cashew nuts is using a roller bearing to adjust the distance between the rollers, according to the size of cashew nuts processed.
Based on stationary raw cashew nut and a simultaneous vertical and axial movement of blades, the cashew nuts are cracked and the shell are separated from the kernels.
Video of Automatic Cashew Shelling Processing Machine:
Advantages of Automatic Cashew Nut Shelling Machine:
1.
This machine is designed based on the manual and semi-automatic sheller, the shelling rate and whole kernel rate are higher than before.
2.
The feeding and shelling process is full automatic, avoid the cashew nut shell liquid' s injury to the workers' skin.
3.
It is easy to replace the blades, suitable for all of nuts of different sizes.
4.
It is easy to install, operate and maintain.
5.
Advanced shelling technology, high output, high shelling rate.
High degree of automation, easy operation and maintenance, avoid the human hands injured by cashew nuts shell liquid, etc.
As a professional cashew nut shelling machine manufacturer, we provide complete solutions for cashew nut processing plant, including cashew nut grading machines, cooking machines, shelling machines, dryers, peeling machines, etc.