SMC Water Tank is also called SMC storage tank, FRP/GRP Water Tank, SMC panel tanks. It is a new type of tank. It is made of high qualified SMC panels. Sheet molding compound (SMC) is a kind of fiberglass reinforced plastic, which is a mixture of unsaturated polyester resin with impregnating augmentation material, filling material and glass fiber. SMC Water Tank is nontoxic, durable, lightweight, corrosion resistant and good-looking. Meanwhile, it's easy to maintain and long-life. It is widely used in water storage in residential buildings, schools, hotel. SMC Water Tanks are used both for domestic water as well as medicine and health where needs good water supply quality.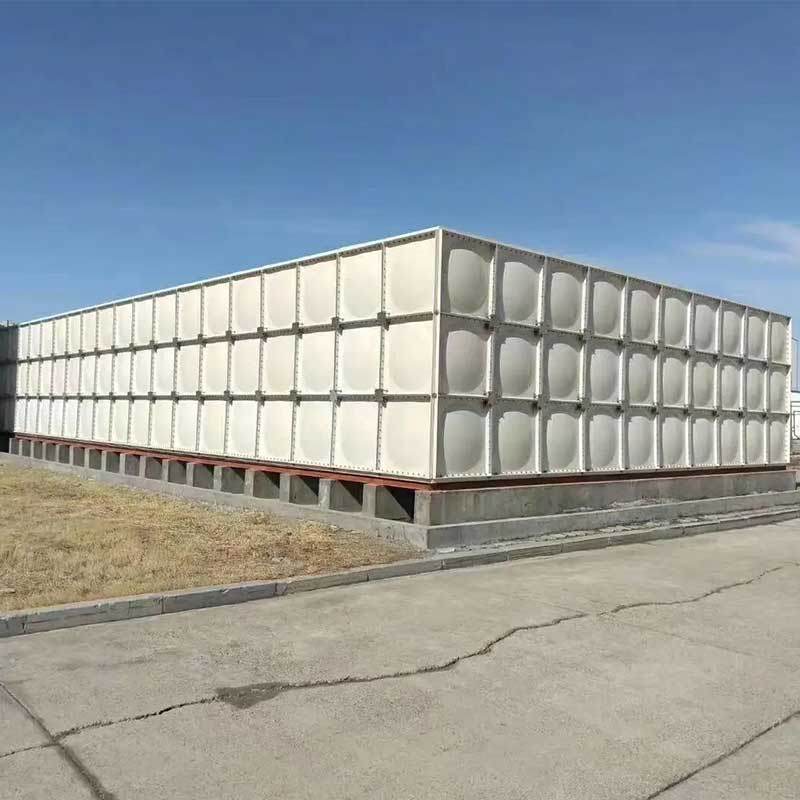 Combined fiberglass tank is molded by SMC plate, sealing assembly material, metal structure and piping system and assembled at site. It brings great convenience to design and construction. The general Water Tank is designed according to
the standard, and the special Water Tank needs to be specially designed. Can be assembled from 1500 to 0.125 cubic meters of Water Tank according to user needs. If the original Water Tank needs to be replaced, do not need to transform the housing, adaptability is very strong. Specially developed for the sealing belt, the sealing tape is non-toxic, waterproof, elastic, permanent deformation is small, and the fastening seal. The overall strength of the Water Tank is high, no leakage, no changing line, maintenance, easy maintenance.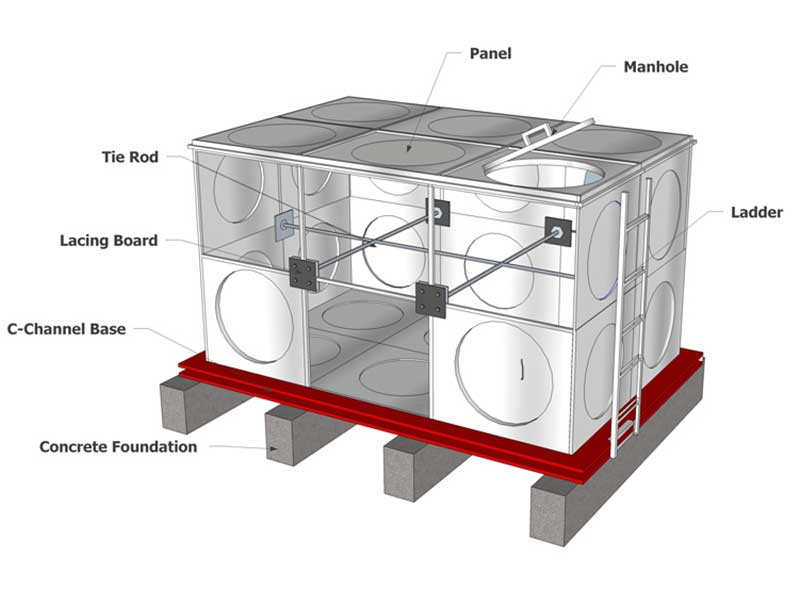 Accessories And Specifications Of SMC Panel Water Tank:
1) Support for Panels: The panels shall be supported externally or internally by an adequate support system. External Reinforcement - Hot Dipped Galvanized Steel Internal Reinforcement - Hot Dipped Galvanized or Stainless Steel 304 rod support and tie-rod
2) Sealing Materials: Non toxic Rubber foam to be used for all jointing, it is especially developed with long experienceand technology on GRP products. It maintains soft itself and adhesives even at low temperatures
3) Bolts, nuts and washers for the assembly of panels: Exposed externally are hot dipped galvanized steel and incontact with water internally are hot dipped galvanized steel or stainless steel 304
4) Flange: the flanges for inlet, outlet, drainage, overflow are hot dipped galvanized steel or stainless steel 304
5) Ladders: GRP sectional tank of 1.5m depth or more shall be provided with internal ladder made up of materials samewith the supports. The external ladders shall be galvanized mild steel or equivalent
6) Drainage: The dome shaped bottom panel with a concave drain panel facilitates complete and fast drainage. Theconcave drain panel has been designed to ensure the periodic cleaning and inspection of tank
7) Overflow Screens: it can be supplied with a screen overflow having a micro mesh filter
8) Man-hole opening & Inspection Hatches: the size can be customized; normally it is supplied with a standard size of:600 x 600mm. the opening can be designs of bolt, seal-tight locking arrangement
9) ABS roof vent with PE insect screen
10) Float level indicator, optional SS304 for internal and external support structure are available on request.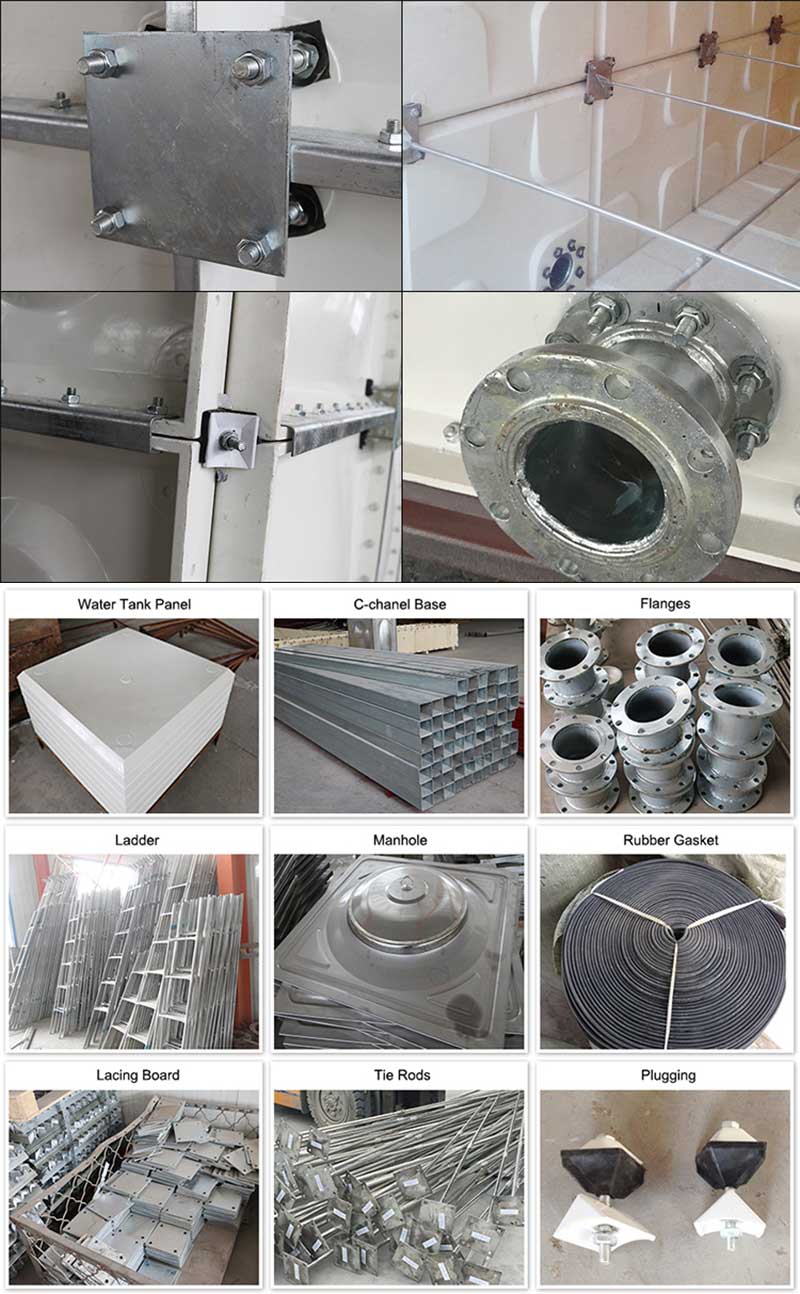 SMC Water Tank application
SMC Water Tanks are widely used in commercial, residential, industrial or agricultural applications for cold or hot water storage, detailed applications are as follows:
Fire protection water storage.
Irrigation water storage.
Water circulation system.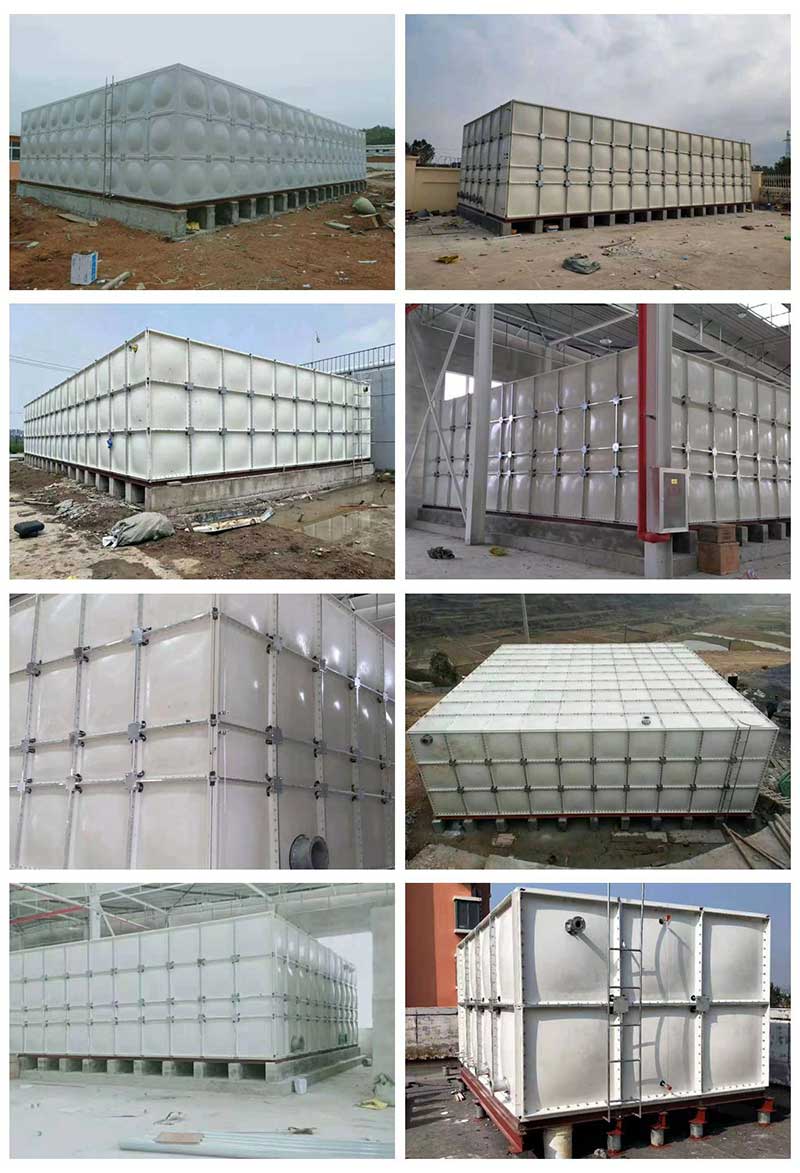 Feature & Advantage Of SMC Panel Water Tank
Excellent durability: The reasonable matching of materials assure that the SMC Water Tank is rustproof and durable.
Water tightness: The gaskets between the panels guarantee the perfect water tightness.
Rational capacity design: Various panels makes it possible to design the tanks according to our customers specific needs. (L-shape, U-shape, square-shape).
Convenient installation: Standardized parts are used for on-site installation. You can install the SMC Water Tank under our guidance. And we also would like to send our staff to install if you like.
Neat and nice appearance: The surface of the SMC Water Tank is smooth and clean. By completely block the sunlight, the bacteria or germ formation and growth are prevented.