Widely used in the production of Fried peanuts, multi-flavor peanuts, peanut cake, peanuts sugar, peanut milk, peanut protein powder and rice pudding, sauce, peanut and canned products, etc. We have three models peanut dry peeling machine for sale, the output is from 200 kg/t to 600 kg/h which can meet the needs of a large number of customers, small businesses or large factories.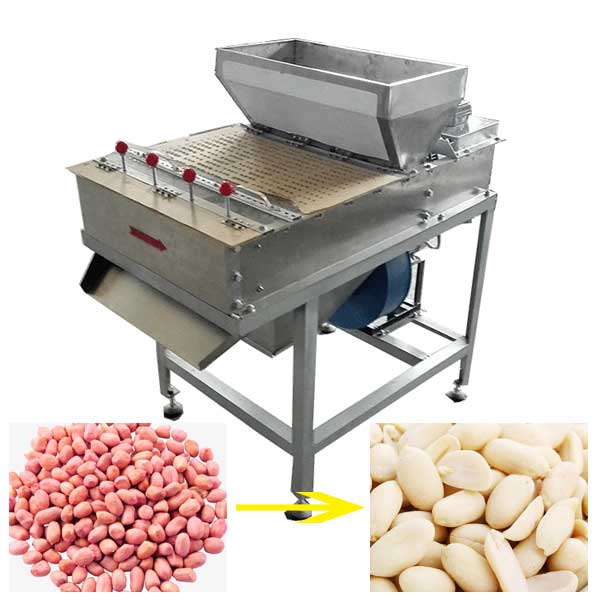 This peanut dry peeler is specially designed for peeling dry peanuts. Before peanut peeling, make sure the moisture of peanuts is less than 5%, here are two methods for drying peanuts:
1. Dry peanuts in the sun until the moisture is less than 5%.
2. Choose one set peanut roaster machine to roast peanuts until suitable for peeling.
After-sales Service of Automatic Dry Peanut Peeling Machine:
1. After the installation of the equipment, we will arrange professional engineers to give free guidance and training to operators, so that they can master the operation and maintenance methods of the equipment.
2. From the date of acceptance and delivery of the equipment, we provide a one-year warranty for the product. At the end of the period, the company will provide a permanent guarantee for the product, charging only a small amount of labor.
3. When the equipment breaks down, we will make timely on-site maintenance to ensure the normal operation of the equipment.
Groundnut Half Separator Splitter:
Advantage of the peanut cutting machine:
1.Professional peanut half parting machine, easy operating, automatic processing, time and labor saving, power saving.
2. High peeling rate is high and can up to 90% .
3.This machine has the function of reasonable structure,high efficiency,save energy,easy to operation and so on.
4.The peeled peanut is beauty,low materials consumption,It is an ideal equipment for industrial food processing.
5. Your raw materials must be roasted firstly,then cool it and then put into the machine.
6.The dust absorption can remove the red skin of the peanut, and the vibration sieve can effectively remove the embryo bud of the peanut in order to perfect the halveing of the peanut.