The material contact part of this cocoa bean roaster is 201 stainless steel, the main frame is carbon steel, and the material contact, frame and outsourcing can be changed to 304 stainless steel. This drum cocoa bean roasting machine is mainly used for baking or drying various kinds of nuts, such as cocoa beans, peanuts, chestnuts, walnuts, almonds, cashew nuts, walnuts, broad beans, seeds and other granular materials.We also offers

Cocoa Bean Peeling Machine

,Cocoa Bean Grinding Machine,

Cocoa Powder Grinding Milling Machine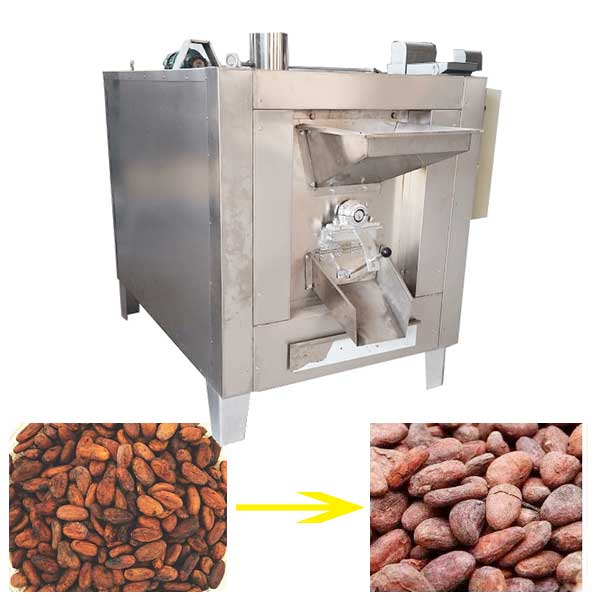 Cocoa Bean Roasting Machine Description:
The machine adopts electric heating type, fuel type, gas type or coal type as heat source; the principle of using drum, heat conduction, heat dissipation and coal as fuel; it has automatic temperature control device; hot air as drying medium, heat energy acts on baking Peanuts continue to push the device during baking. Heating method can be customized according to customer requirements.
Advantages of Cocoa Bean Roasting Machine :
1.Automatic temperature control, 0-300 degrees can be adjusted freely.
2.Energy saving, with thermal insulation device, 5-10cm rock wool board thermal insulation.
3.The equipment and material contact parts are all stainless steel (upper and lower hoppers, cages, receiving trays), safe and hygienic. The outer cover is stainless steel, and the main frame is carbon steel.
4.Adopting the principle of rotary drum, heat conduction and heat radiation, the material is evenly heated, and the phenomenon of patchiness does not appear.
5.The internal cage is punched with stainless steel plate, which is stronger and more wear-resistant than stainless steel screen, and its service life is 5 times longer.
6.Fast heating, low power consumption, stable performance, and low operating costs.